Windows Virtual Desktop Part 1 – The Essentials

This is Part 1 in a series of upcoming blogs on my experience from setting up Windows Virtual Desktop at in lab but also in production on some customers of Coligo. Part 1 will focus on the essentials. What it is, Why should you use it and When to implement it.
Windows Virtual Desktop has long been the missing piece in a modern workplace. Imagine a complete desktop with all your programs, settings and files available from anywhere in a secure way. Since we implemented it at Coligo, I have almost stopped using my laptop. I´m only using my Samsung Dex phone to connect and work.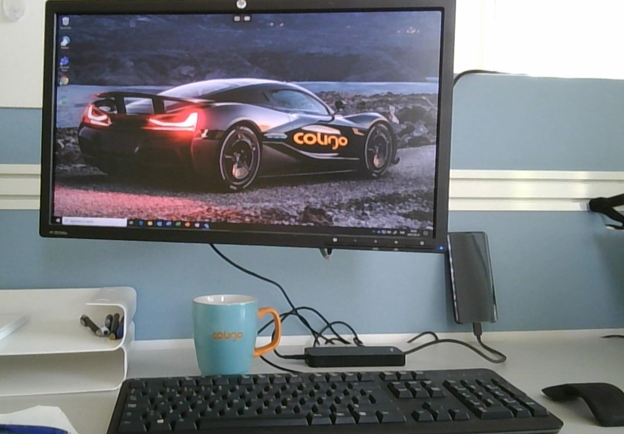 But the setup of Windows Virtual Desktop preview is far from simple! I have spent weeks digging, testing and hacking it up into small understandable pieces that I want to share with the rest of the world.
What is Windows Virtual Desktop (WVD)?
Most know how Outlook Web Access work, this is kind of the same thing but for the windows desktop. A Windows Web Access! But it can also be an access to a specific Application only.
WVD is a virtual Windows computer running in Azure. Giving the user access to a complete windows desktop or specific published apps.
WVD is the only multi-user Windows 10 platform, gives multiple users the possibility to use the same virtual machine at the same time to save money and resources.
WVD support Windows 7 and will give support and security updates for Windows 7 past its End of Life on 14 January 2020. The support will be extended for free until January 2023.
WVD also support Windows Server and will deliver a traditional RDS solution in Azure. There is also a possibility to migrate your existing RD Session Host to WVD.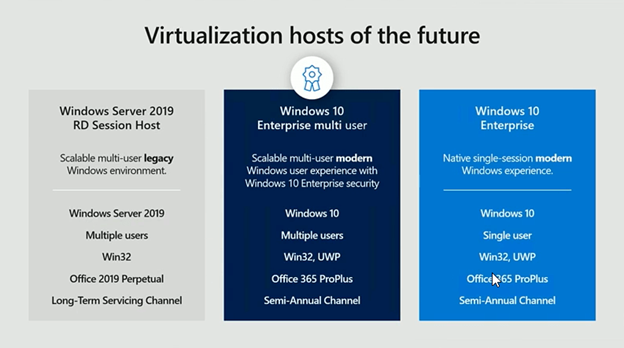 With WVD you outsource all infrastructure surrounding an RDS/VDI solution to Microsoft. Similar to when Exchange, SharePoint and Skype is outsourced to an Office 365 Tenant. For WVD you outsource RD web access, gateway, Licensing, broker, load balancing, monitoring, maintenance, compute, storage and network to an Azure RDS Tenant.

Another god thing to mention, most of it is for free! You get all the Remote Desktop infrastructure free of charge. For most customers that means 4-8 servers with services that you now get for free in your Azure RD Tenant. You only pay for Azure compute, storage and network for your Virtual Desktops. You also need M365, Windows or RDS CAL licenses. But most customers today already own these for the Microsoft 365 services.
Why Windows Virtual Desktop?
If you already are using a remote desktop solution, the why question is obsolete! But you can now migrate your existing RDS/VDI solution to WVD.
But for all you other folks out there wondering how to use this wonderful product, I have listed some scenarios.
You have an application that only works in Windows 7. Setup a WVD pool with windows 7 computers and publish that application as a RemoteApp. Windows 10 users can get the RemoteApp in their start menu by group policy and run the application like it was installed locally.
Offer your temporary employees a complete and secure modern workplace in WVD without the cost for hardware. Bring your own device finally makes sense!
Retire your old VPN solution and only allow external access to LAN from a secure and managed WVD.
Use Samsung or iPhone as the only device for your employees. Have compatible docking stations at work with keyboard, mouse and monitor. Users just plug in their phone, connect WVD and start working.


When to implement Windows Virtual Desktop
If you see business benefits with this solution or if you want to be on the edge with new technology, you should begin to pilot this solution.
But, WVD is now in Public Preview! This means, there is no support regarding the services. Thereby the product is not yet ready for general use in production. You will have to connect with the development team via feedback hub, forum or social media to report issues and get tips and tricks.
And to raise a flag! During summer, an update made WVD inaccessible for many users, weeks has passed and I´m still waiting for a solution. So not ready for production!
There is still a lot of features missing or limited. WVD require a Local AD or Azure DS, not an Azure AD. SSO is only working with ADFS. Limited support for MFA. Microsoft has also promised a GUI in Azure Portal for managing and maintaining WVD. Today it is a lot of PowerShell and manual steps to setup the WVD environment.
For most of you I would recommend to wait until General Availability. Could happen early 2020 but might also be released earlier.
Start Testing the preview? Go tho this start point!
About The Author